Prime Time Luncheon and Program
Event: Prime Time Luncheon and Program
Remembering the Ancestors: Día de los Muertos in Mexico presented by Jan Kurtz
Jan, former instructor of Spanish and Latin American Studies, will share her travels to Cuernavaca, Tepotzlan and Ocotepec during the Día de los Muertos celebrations of mixed Catholic and Aztec origins. The origin of these traditions and beliefs will be followed to the present day celebrations. A sample "altar" decorated with authentic items used to commemorate the "dearly departed" will be explained in its levels of symbolism, offering alternative ways to remember, to grieve and to celebrate life.
Date: October 16, 2019
Time: 12:00 Noon Luncheon
A noon meal features foods enjoyed in Mexico. RSVP by Monday, October 14: 715-834-2668 or maryb@firstucceauclaire.org.
Place: First Congregational Church, 310 Broadway, Eau Claire, WI
http://firstucceauclaire.org/calendar/ Click October 16, Primetime Friends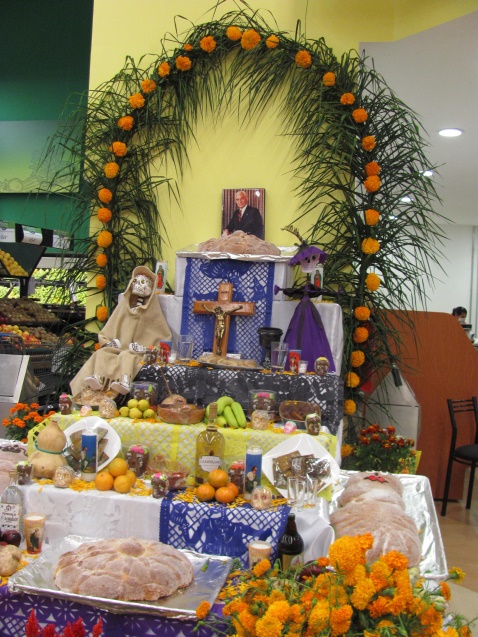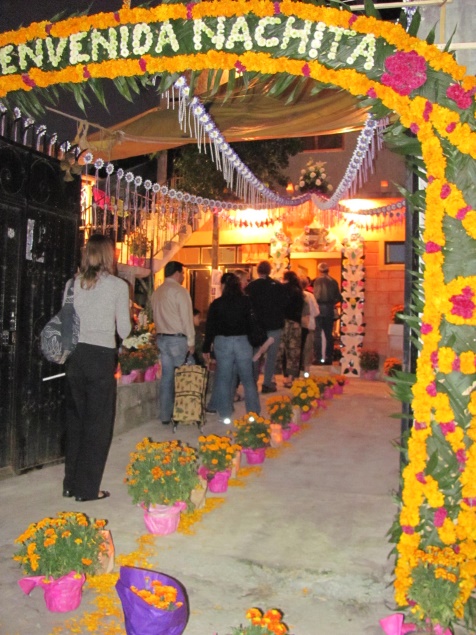 Bienvenida Nachita
Entrance to a home in Ocotepec, Mexico, decorated with marigolds leading the "dearly departed" back home for Día de Muertos celebration.
Recently deceased owner of a neighborhood supermarket is remembered by his employees in this altar with Pan de muertos breads, marigolds, fruits and photos.
Posted on under
Eventos