The Tales We Tell
Changes. A month ago, it was still light out at this hour. Today, I have to wait for sunrise to take my morning walk. There are no street lights here. The deer are up and about. Ripened tomatoes droop from their vines. Song birds have flown.
Changes. It will still be dark when the school bus rumbles over the gravel, stopping at only two homes along this stretch of road for a total of three children. They will ride for an hour before spilling out into the school yard. Most of my neighbors and I put our kiddos on the bus for the last time a few decades ago.
Changes. New neighbors. This summer, a corner parcel was bought by a young couple. After the driveway was put over their culvert, they parked their camper inside the circle of pines. Those of us who started our residency "out here" in former chicken-coops, box cars, 14'x16' huts and house trailers, walk by this corner of fresh dreams and decide to keep our pioneering adventures to ourselves. . . for now.
Today, the temperature dropped 50 degrees. Winds blew down the first round of pine needles and yellow maple leaves. A chill fills the lengthening shadows. To the north, pumpkin patches bubble up with orange globes and south of the border, fields fill with five-foot blaze orange cempalsuchil – Mexico's marigold, used to guide the spirits back home for Día de los Muertos, a most special tradition of telling stories.
I became aware of Day of the Dead a few years after my first husband died in a motorcycle accident. My culture offered up denial, avoiding the topic and those recently bereaved. Mexico gave me a way to celebrate life. It gave permission to speak the names and tell their stories – warts and all! It included symbolism, special foods and laughter along with tears. It promotes family history. Even after years of asking my parents for life stories, my continued experiences uncover more questions and curiosity leads me back several centuries!
For example, my great-grandpa Stephen fought in the Civil war and was awarded a 160-acre plot of farm land, as was the case then, and built his farm outside of the evolving village of Rock Grove, Illinois. There is a picture of the barn-raising with many locals amidst the timbers and saw horses. Stephen and his wife, Susan (LaBorde) had five children, their only son, Floyd, being my father's father. I have some facts, but lack a daily tidbit or anecdote that would reveal their personality.
I knew Floyd, but only recently learned from reading my father's journals, that he had floated my family $1000 in 1957 to begin construction on our cabin. For context, my father earned around $3,000 annually as a country pastor. Photos show Floyd laying the cement foundation, using a double-man saw with his other son, Woodrow, and guiding the horses pulling logs off the site. With this, we have an idea of his character.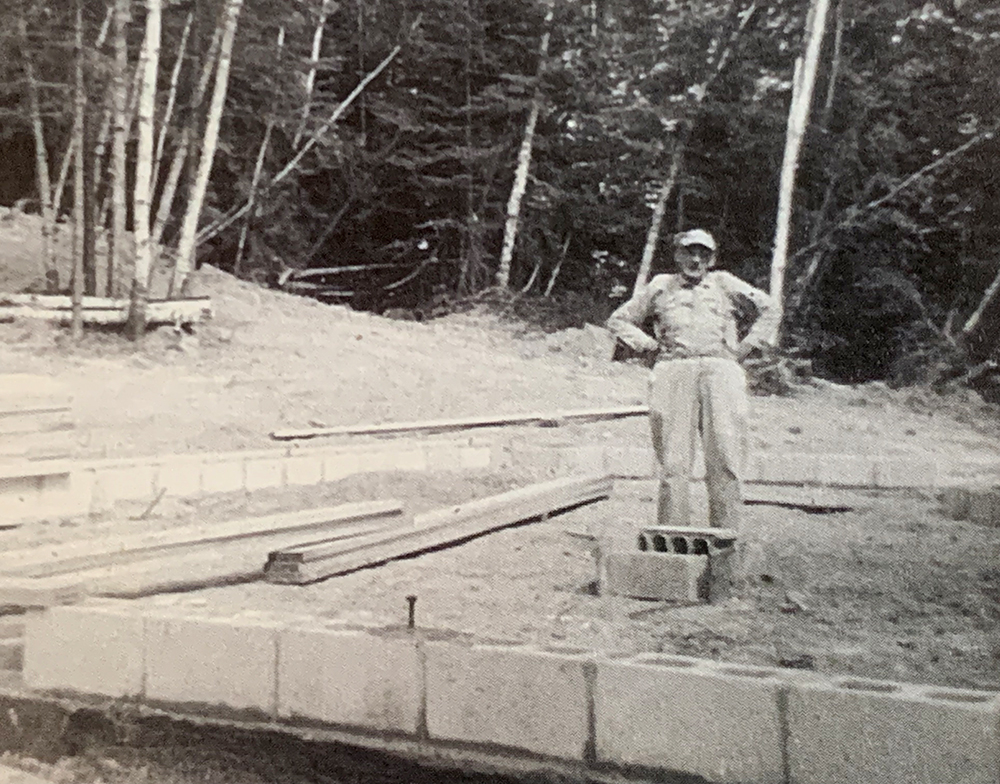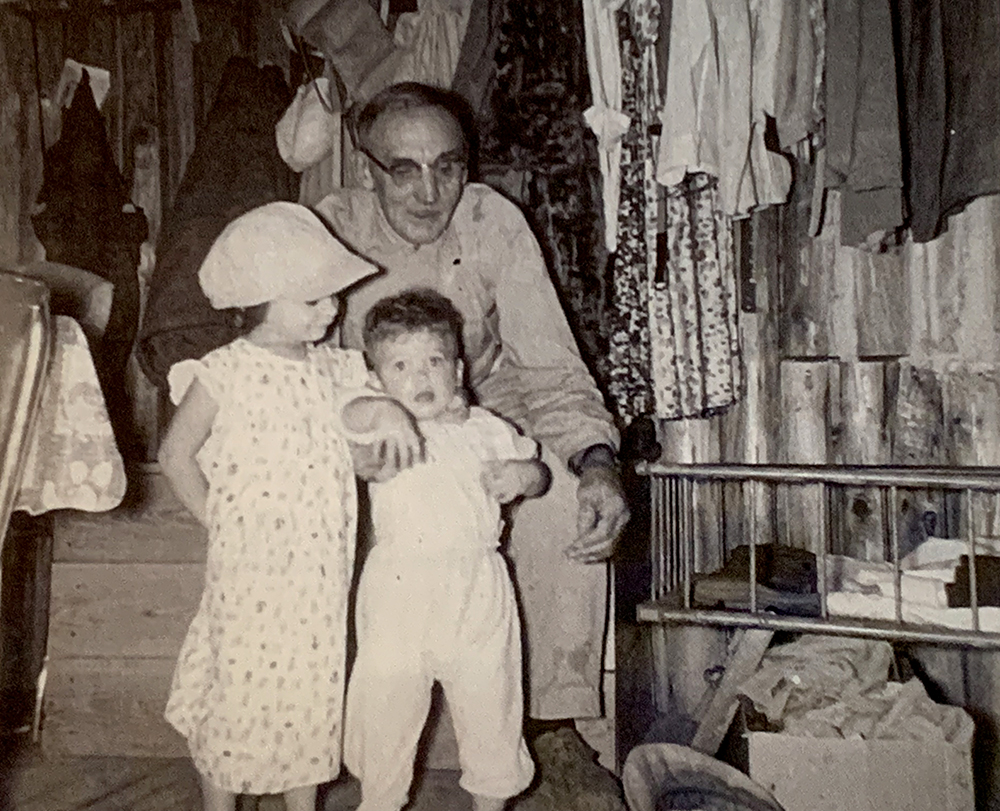 I pause. What will I do with these memories in a culture that doesn't practice the oral tradition of habitual sharing? I'm shocked at how close my own history is to the Civil War! If I can't grasp my own span of years on the planet, how do I impress the connections upon my grandchildren? Without preaching about generosity and gratitude, perhaps showing them a photo of the horses and have them do the math of what Floyd's gift would translate in today's dollars might make a good tale for around the Thanksgiving table.
My thoughts scatter with a ping from my phone. A text comes in from Abra relaying that she can join Jamy and me on Monday to do our traditional "sugar skull" and cookie prep for this time of year. Abra and Jamy were former students and now we have passed a decade's worth of preparing skulls for local churches, Spanish clubs and the occasional art projects locally. We set aside a few hours, pour the sugar- meringue mix into molds, squirt frosting unto skull cookies, eat some potato soup and seasonal apple slices, and remember when we worked the Festivales Latinos together at Central Lakes College. Or, the time that Abra and I were with three amigas, climbing the Pyramid of the Sun, outside of Mexico City. . . or when Jamy and I experienced a "real live" Day of the Dead in Tepoztlan, outside of Cuernavaca. Or. . . or. . . the memories roll.
Memories. Gratefully, some of them fade, leaving only the better ones. We choose what and how we remember going forward. Will we harbor grudges or "cut bait" and move the boat? Do we forgive but not forget? Do we remember the foibles without being judgmental? Many great anecdotes revolve around mishaps that give us a "moral to the story" without emphasizing the negative. We are advised not to live in the past, yet there is but a slight dimensional shift between living in the past and learning from the past.
But, hey!  We have the present!  Our stories! We don't have to wait for someone else to tell our tales. What is something from today that reveals who we are? What accounts are already being told, perhaps at our expense? We still have time to tell our side before someone else's perspective becomes the accepted truth!
My son gleefully tells his kids about the time I was so mad at him and his little buddy that I chased them down the road yelling. . . (you'll have to ask him for the ending). He also tells them about the knee-high socks and flannel shirts I "forced" him to wear. In my defense, it was the style! True, he did live in a hut while we built the house.
Yet, I'm hoping he'll also tell them about living at Jubilee Partners in Georgia, where his best friends were Vietnamese and Central American refugees. One day, on the school bus, a fight broke out when he made the mistake of correcting a schoolmate about the North, not the South, winning the Civil War. That same Civil War that is only, yes only, a great-granddad away.
I've tried to discern what sort of folks my great-grands were from the tintypes and a spattering of comments made about gatherings once held at the family farm on Sundays. What if we could turn the tables and try to explain to them who we are?  What would they think of all of our selfies? What would our hobbies, actions and accolades reveal about our character? When our lives are reduced to an obituary, what will future historians glean from those few paragraphs?
Changes come at us daily. Some are thrown in our paths and we have to deal from a place of reaction and flexibility. Others are intentional. This month, our culture is thrown into Halloween's scary skeletons. Even scarier to me is the mix of Christmas decorations on the shelves next to the mechanical ghouls that scream out when triggered by the passers-by in the store aisle. Why not choose the friendly, dancing Catrina – a fun-loving juxta-position to the Grim Reaper?
Changes? Maybe this year, you put a sugar skull next to the Halloween candy bowl and hand out a few stories. Remember those who came before, making today possible. Be aware of your own subtle or subliminal messages as you go about your day. Add an intentional change to this year's fall traditions or something simple, like thanking the guy corralling carts in the grocery store parking lot. Notice the invisible ones.
It's getting light out. The sugar skulls are ready. The skull cookies are works of art. Today, I'll unwrap Catrina and the ghost candles my mom made and painted in ceramics class so long ago.
I'll think of my brother, Steven, and the time he dyed my white poodle, Mimi, blue for Easter. I'll feel the presence of my father as I walk in the woods.
And, you? What tale will you tell at the end of the day?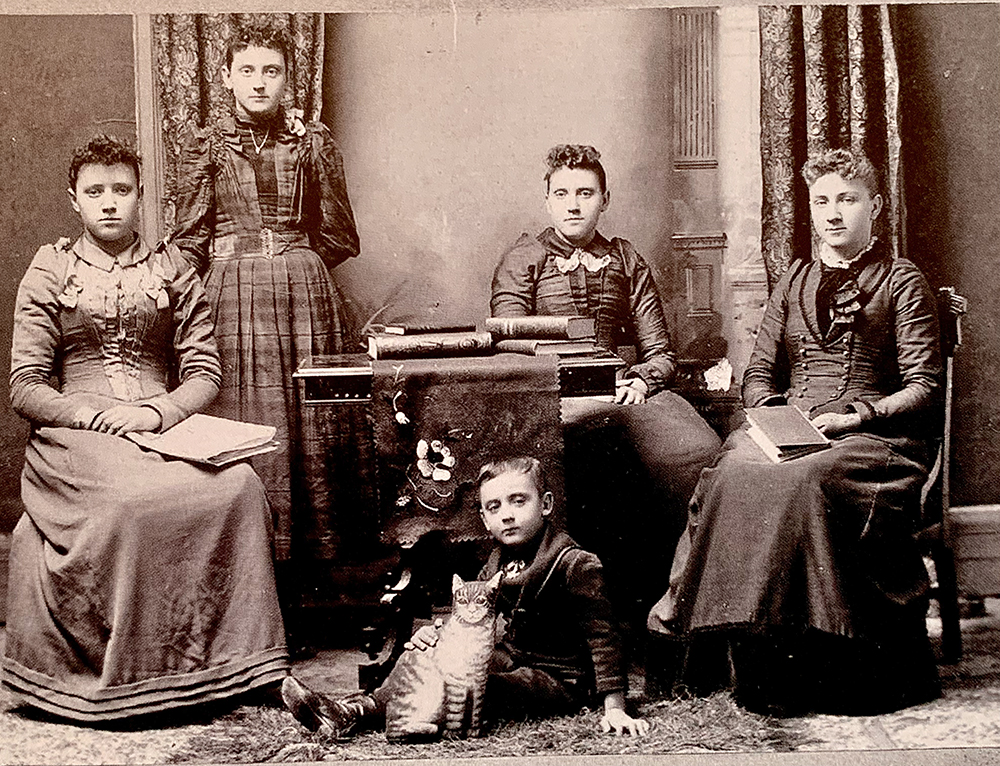 ** Feature photo caption:
Three generations of hands: great-grandpa Don meets great-grandson James, while in the arms of his father, Greg
Posted on under
Articles