La Acostada and La Levantada
Dusk fell on the houses in the
barrio situated near Saltillo's center. Christmas lights were hung on the artificial pine in the sala and draped across the fireplace mantel in the home where I was staying. The Tellez family rented out to students, of which I was one of three. The couple from South Dakota and I were less renters than additions to their family.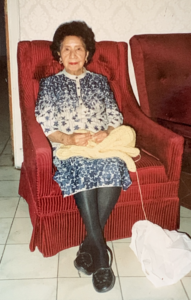 Abuela (Grandma) and I habitually sat in front of her favorite telenovelas at night, while she pointed her arthritic finger at the television, giggling or letting out a gasp as the stories unfolded. In this way, my Spanish lessons continued beyond classes and into the evening. Precisely at 8:00, just when the little Italian mouse, Topo Gigio, appeared on T.V. to sing his "Buenas Noches" to all the kiddos, her daughter, Berta, came to get her.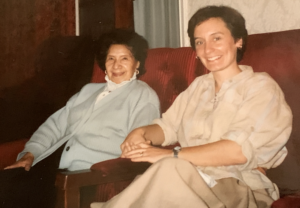 Abue was the elder of this household owned by Berta and her husband. On this Christmas Eve, their two adult children, Abue, along with some assorted aunts, uncles, and cousins were gathered to celebrate the "Acostada" of Baby Jesús.
Once the extended family gathered in the large living room, Berta called us to order. "Muy buenas noches a todos," she began. "We are here to remember the night that our Savior, Jesú Cristo, was born. This year, we will line up from the youngest to the oldest for our procession."  Her gaze fell on Anita. "Anita, that makes you the leader." She extended her hand and gently pulled the child over to a box.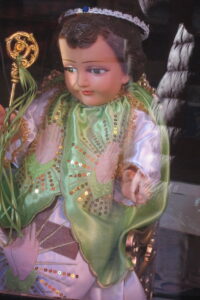 While everyone else lined up in chronological order, Berta opened the tissue papers, reached in, and lifted up a life-sized baby doll! With loving care, she wrapped it in a fuzzy baby blanket before handing it to Anita, who clasped it to her chest. Berta distributed votive candles to the rest of us, lit them, and placed herself next to Anita. We stood expectantly until Berta's voice broke the silence with "Noche de Paz, Silent Night." Our faces flickered as we followed her around the room.
Slowly, we processed from one room to another, all joining in with Hark the Herald Angels Sing, Joy to the World, We Three Kings. . . I knew the religious tunes but not the words in Spanish. Language wasn't important at the moment. Then, a different tune. I squinted and leaned in, trying to understand. Was it a woman?  Washing diapers?  Hanging them on the shoreline bushes?  Little fishes coming by to drink? "Pero mira como beben los peces en el río."  Of course! Mary, the new mother, knee deep in the river current washing out diapers!  How human! Something realistic, for a change.
We made the rounds of all the main rooms before circling back to the living room where a small manger waited in front of the Christmas tree. Anita placed her special bundle inside and stood back while the gathered sang, Away in a Manger. Christ(mas) had arrived.
At midnight, the family attended the Misa del Gallo, the Rooster Mass. When December 25th dawns, the rooster crows, and the feasting will include tamales!
But, wait. There is more!
The days to follow added other new events to my Christmas and New Year's options. My traditions previously included a day of opening presents, some oyster stew, staying up to midnight on New Year's Eve, and then stuffing all the decorations unceremoniously into boxes, and stacking them back into attics and garages, before vacuuming the whole house. Not so in Spanish cultures.
December 28: Día de los Inocentes is similar to our April Fools, but based on the Three Kings fooling Herod to cover their tracks after visiting the Holy Family.
December 31:  In Spain, I had experienced New Year's Eve eating of the grapes at midnight for good luck and a few good laughs.  It is impossible to eat a grape with every strike of the clock at midnight!
January 5: Time to put out hay and water for the camels in preparation for the Three Kings, which, by the way, are the ones said to bring the gifts. There is a special Three Kings cake, a rosca, with a tiny doll baked inside. If you get that piece, you are to throw a party by or on February 2.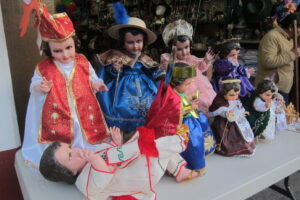 February 2: Ah, but remember Baby Jesus still asleep in his bed?  He needs to be gotten up! That is called the: Levantada, a time of closure. If not before, you can wait until the Mass of the Candelaria, when your Baby Jesus gets dressed up to go to the temple.
I was invited to another Saltillo home where my friends gathered their kiddos for the Levantada. Again, we were called together, but this time, lined up eldest to youngest. That put me in the front of the line without a clue as to what would happen next.
I watched kids put ornaments into boxes while the women covered a large platter with an assortment of hard candies, mostly marked "enchildadas" meaning chili flavored. Finally, much to my surprise, and I confess – horror – one mother took  Baby Jesús, and put him smack dab in the middle of the silver platter. (A baby on a platter just didn't work for me.) I was jarred back into the moment when I heard,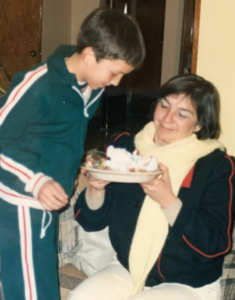 "Ahora, Juanita," my friend explained, "take a candy and then give the baby a besito on the check, say good-bye until next year."
I looked at the rosy cheeked, smiley Jesus on the platter. I could do this. I helped myself to a non-chili-peppered piece of gum, leaned over, and placed a little kiss on the baby doll's cheek. "Hasta luego, Jesucito," I whispered. "¡Quė sueñes con los angelitos!" Dream with the angels.
I felt closure. I felt peace. I felt the season had been revered and honored. I have borrowed some of these traditions and made them my own. When packing away the Nativity scene, I am more intentional. I carefully wrap the representative figures and bid them a quiet "fare-thee-well" until we meet again.
I take a moment to reflect, not on the food, the music, the baubles, and commercial hoopla, but on the message of love – a message that should not be stored away in boxes until next year.
La Acostada and La Levantada involve preparing the Baby Jesus doll for arrival on Christmas Eve and departure to the temple for blessing on February 2. 
Mexico's Christmas is steeped in re-enactments and symbolic ritual.
Posted on under
Articles