If Not Now, When?
Two years ago, I planned to throw my book a grand coming out party and then, head back to Saltillo, Coahuila, Mexico, to reunite with my first Spanish-speaking friends – the ones that, unbeknownst to them, put my life on a path paved by Spanish. As of today, I am excited to say, that one of two dreams came to pass.
Plan A succumb to the Spring 2020 COVID spread, putting the Spanish flu and Black Plague back into human's collective memories.  My books arrived in boxes and were "released" into our garage for a period of quarantine, before we dared open and touch them. My envisioned trip to Saltillo flew completely off the charts. Travel bans to a neighboring county made out-of-country plans a distant notion.
The planet continued to circle the sun. Our days filled, but mostly with extra effort, as we all tried to stay healthy. A vaccine, then a booster brought some hope.  Countries began dropping most of their travel testing. Was I ready to leave the country? Should I jump across the border? Time is less kind to those of us in the "third stage" of life, changing our goals and energy.  So. . .
If not now, when?
One late October day, the answer leapt to the front:  NOW. A piece of November's calendar was empty. We made some phone calls and packed out. One Thursday, we left Minneapolis at 3:00 a.m. and by 3:00 p.m., were picked up by Lucio at the Monterrey airport. We headed for Casa Maria in Saltillo, a place we were made aware of only a week before during the Little Falls Franciscan Sister's community meeting.  Thus began the bringing memories full circle.
Sister Isa welcomed us to Casa Maria, a newly opened location to be used for incoming rural college girls to live while studying "in the big city." It became our home, cooking and eating together, sharing evenings, and included a Thanksgiving dinner that crossed the border in the trunk of a car driven by Franciscan Sisters!  They also invited us to spend a weekend at their rural site at San Rafael, where we enjoyed a tamale feast served to folks who have been supportive of their mission there.
Casa Maria was perfect for us. It is located within walking distance of downtown Saltillo, the Mercado Juarez, Calle Victoria (where I stayed in 1970), the Alameda Park, and major museums. Sister isa and Linda were are "on location" family. We walked everywhere, with a few rides provided by Raul, Lucio, and Marina when we visited them.Yes, we reconnected!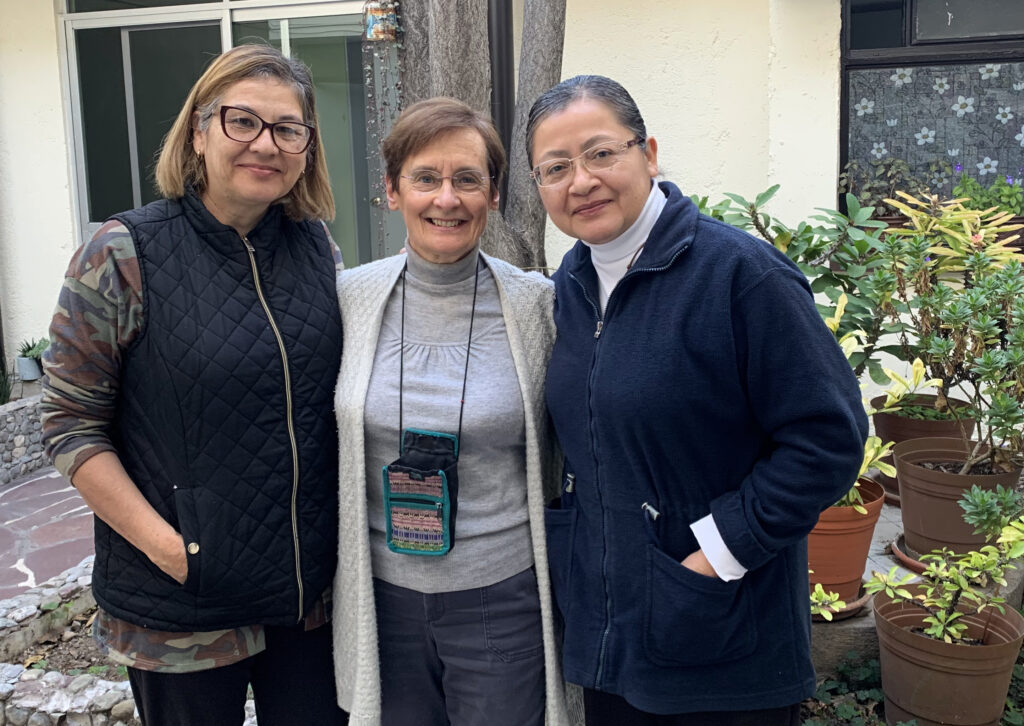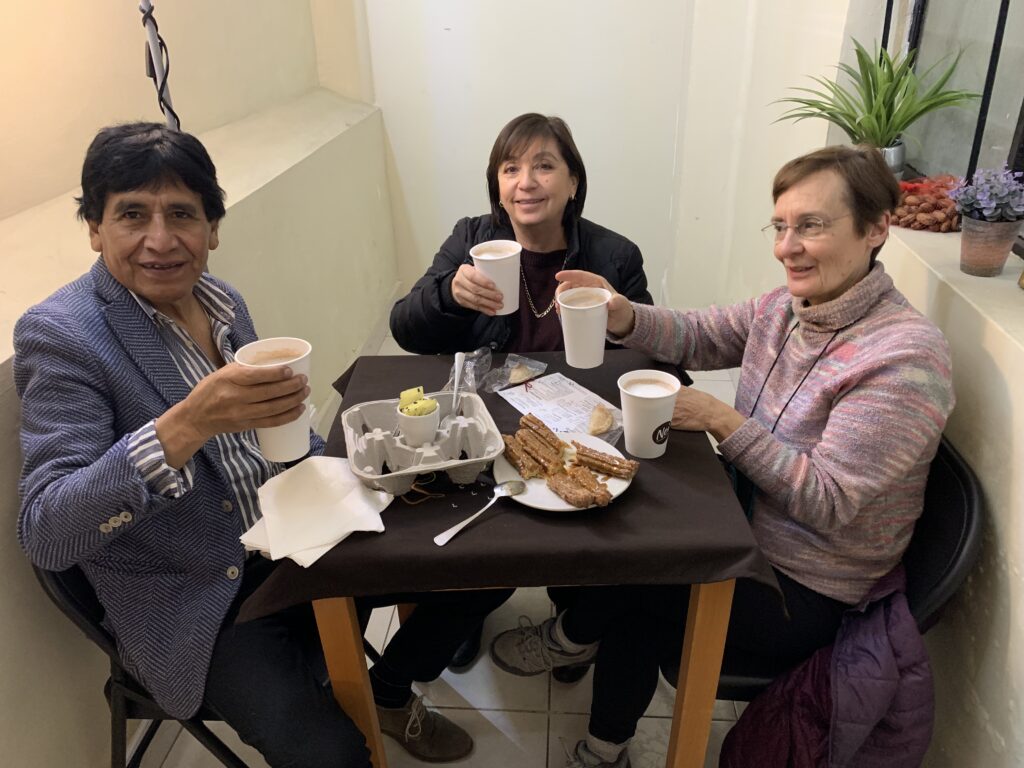 Lucio gave us tours of his offices, pointed out his property interests, took us home to reconnect with his wife, Gloria, two daughters and their children, and found time to take us out to his favorite eateries. He "grew up" to be a very successful engineer/businessman, using his expertise to enhance Saltillo and provide for his extended family, all while being humble, generous, and unassuming!  He claims to be retired. I didn't see that.
Raul is retired from his career as a government architect for the state of Coahuila. He picked us up and introduced us to his weekly "retired guys" breakfast, took us to his home to again visit his wife, Ilsa, who we met in 1986. His Christmas tree looked strange to me, juxta-positioned with his tall patio palm. We spent one day sleuthing, trying to locate Patti and Nico.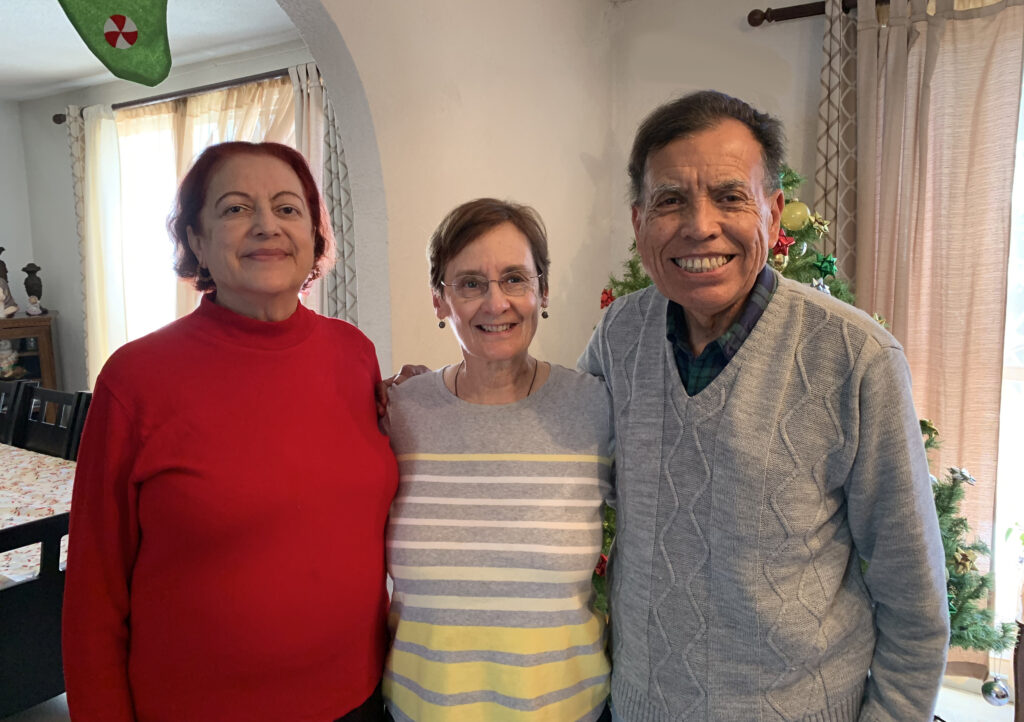 Patti was a high school Rotary exchange student in Brainerd, 1986. I last saw her in 1989 when I took classes in Saltillo toward my Hamline MA. Her life went to career, family, and beyond, losing touch with Brainerd contacts. I did know that her family-owned Meson Principal in Saltillo, and if they still owned it, we had a lead.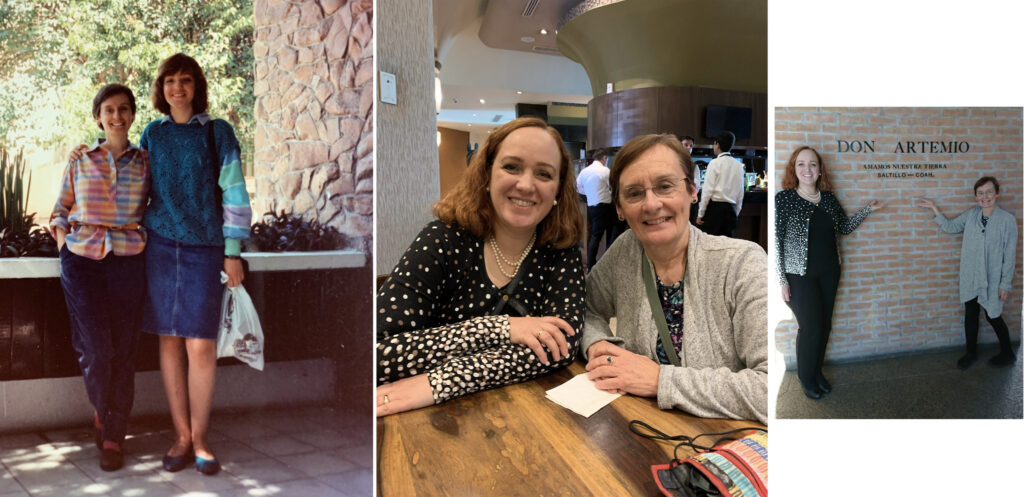 There were two restaurants owned by the family in Saltillo now, with branches in Monterrey! Perhaps my story, told over the phone, sounded dubious, so Raul offered to take us to the Meson and ask in person.  The cashier called the manager over to help. I again explained who I was and how I hoped to find Patti. He took my information and we walked out the door. We had tried.
Before we got to the sidewalk, he was running after us, calling out and dragging a woman behind him.  "Yes," he gasped, as he came to a stop, "we've found Patti!"  He stopped and looked at the woman, "This is Patti's sister! Patti is coming to town this Sunday!"  I looked at the woman and asked if I could hug her.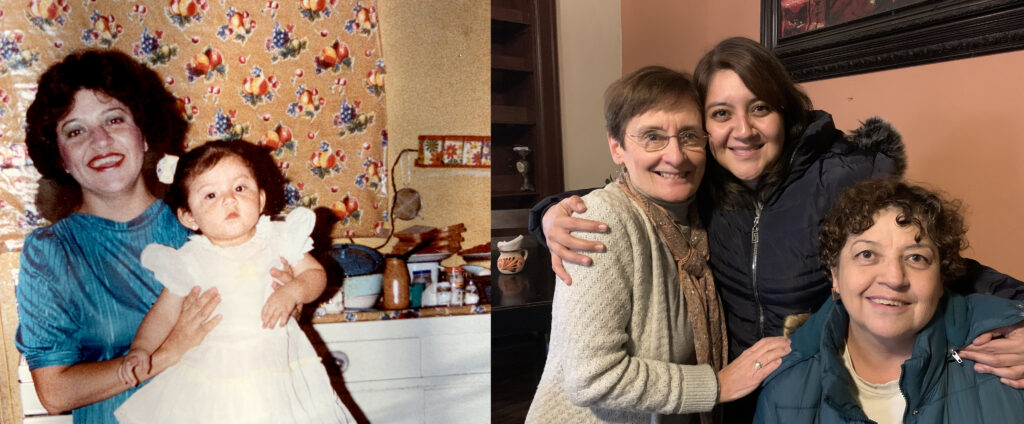 The other missing person was Blanca Nelly, a woman Robert literally met while crossing the street while studying in Saltillo in 1985. That unlikely meeting led to a friendship that I looked up in 1989. It was then, I was included at a home celebration for her daughter, Marina's, baptism. Marina was colicky that day. I remembered Blanca's mother taking an egg, circling it around Marina, taking it out to a patio dish, breaking it and "releasing" the bad. It worked.
Now, this same Marina found me on FaceBook! Yes, that was my book and yes, we'd visit, IF we ever got back to Saltillo. Then, I lost her contact in what? Cyberspace? I found some old letters with last names. Heather, my website guru, soon matched up a possibility. It was HER!
What a find! When we met, I beheld a sparkling, young woman, full of zest and delight. We dined together next to the cathedral, visited the sacred water OJO de AGUA church, and on Monday, she took me to what I call my Birthday Parade – only because it coincides with their Día de la Revolución. This year my attention was drawn to the marching group of Adultos Mayores (senior citizens) drumming their way down the street followed by jump-ropers and bouncers of large balls doing a synchronized step along the route! Neither Marina nor I needed to do the egg treatment that day. We were both in fine spirits!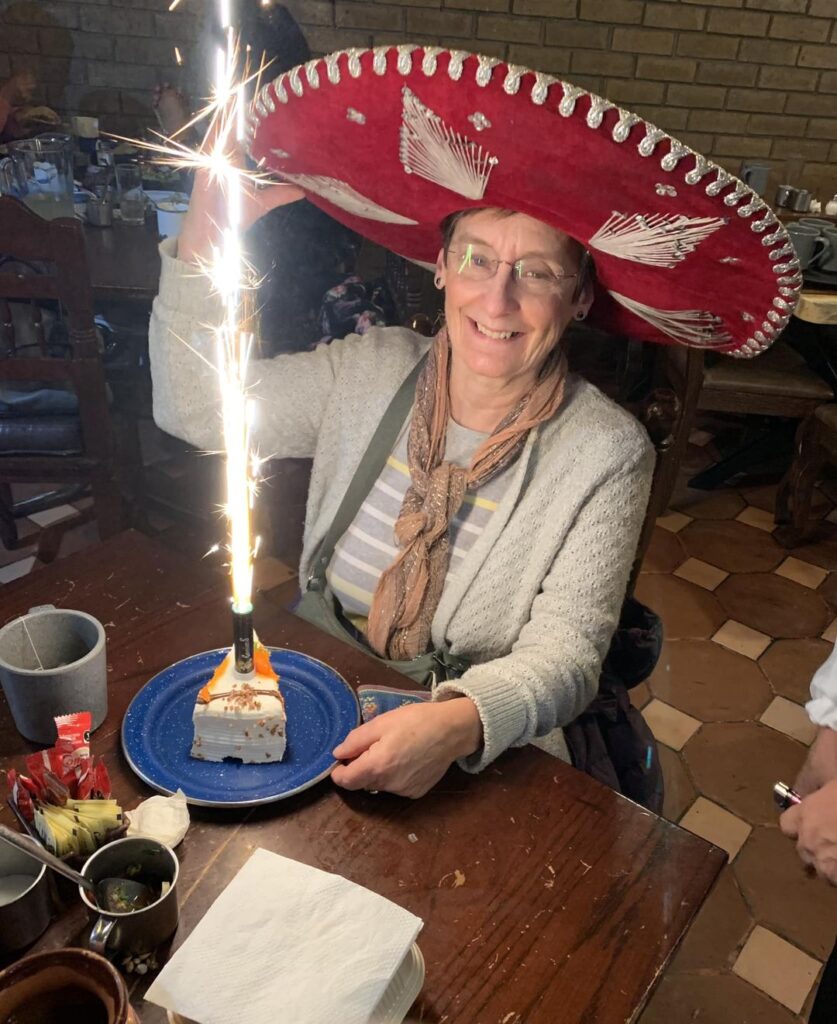 Yes, I celebrated a Big Number Birthday including the mariachi hat, sparkler candle, and El Mariachi Loco playing in the background. I went along with it to the point where they wanted to dunk my face in the cake. That is where culture ended and personal boundaries kicked in.
Otherwise, I lived by the phrase, "If not now, when?"
A few clips from the Día de la Revolución parade from my trip to Saltillo, Mexico, November 20, 2022.
Posted on under
Articles